Rest. Relax. Restore. Heal.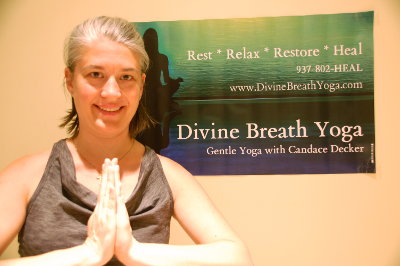 If you are in the greater Annapolis, MD, area, please join or request a class. Join a virtual practice -subscribe to the "Divine Breath Yoga with Candace" YouTube channel
Divine Breath Yoga is a gentle yoga practice led by Candace Decker, RYT-200, based out of Cape St. Claire in Annapolis, Maryland. She's a wife and busy mom (and disabled Army veteran) who certified as a yoga teacher to help others find healing through mindful movement yoga practices. Yoga shouldn't hurt! A gentle yoga practice should rest, relax, restore, and heal the body, mind, and soul.
By request, Candace has led yoga practices for senior living communities, small groups, large churches, military base fitness centers, child and teen workshops, homeschool groups, corporate retreats, college workshops, Mom's Night Out events, women's retreats, Yoga and Wine nights, a "Middle of the Herd" AA weekend retreat, and other special events. Gentle yoga practices with Candace can be secular or Christ-centered with participants practicing chair yoga or on a yoga mat.
Founded in 2014 in Bellbrook, Ohio, after certifying in Yahweh Yoga style (YYT-250), the yoga ministry is now based out of Maryland with practices in Annapolis, Fort Meade, and surrounding areas. Divine Breath is a translated name of the Holy Spirit – this yoga ministry is a calling from God to help others find healing.